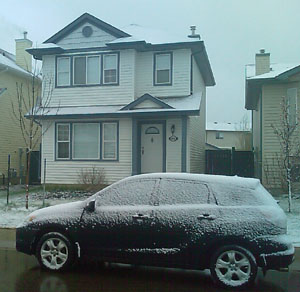 This is the lovely sight that greeted me this morning.  There has been snow for two days running now. By Saturday it is supposed to be nice again- sunny and 20 degrees. This just proves the old adage, "If you don't like the weather in Alberta, wait five minutes"
(The house in the background of the picture is the one that I am house-sitting).
I think this cold is better than the flooding problem that Barb is having.  (Check out her
latest post
).
That's about all the exciting news for today.  I'm going to bed early so it will be a little easier dragging my butt out of the bed tomorrow morning.